Send Inquiry
Centrifugal Process Pump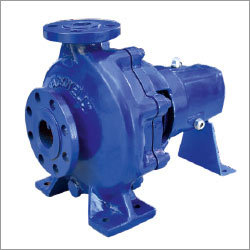 Centrifugal Process Pump
Centrifugal Process Pump
is the most well-known pump for liquid move in high stream rate, low weight establishments. It is used in drip irrigation, water supply & building services. The pump comes with versatile shaft sealing arrangement, gland packing arrangement and with an option to use mechanical seal. It is widely used for handling the water in marine, food processing, steel and chemical industries. Bigger shaft and bearing size of the pump give it a sturdy design. Drive and driven magnet safety clearances protect containment shell.
Centrifugal Process Pump
has single stage, single suction with back pull out type design.
Operating Data
Capacity:

up to 2200 m3/hr

Head:

up to 150 mtr.

Discharge Size:

25 mm to 300 mm

Temperature:

350° c

Speed:

up to 3500 rpm

Pressure:

up to15 kg/cm2

M.O.C:

C.I. – C.S., SS - 304/ 304L, SS – 316/ 316L,
Bronze, Alloy- 20, CD4MCU Hast alloy B & C, etc…
Features
Back pull out design
Conform to ISO 9001: dimension
High efficiency hydraulic design
Heavy duty shaft, sleeve & bearings
Noise &maintenance free
Steady head & capacity
Single stage closed impeller
Use for high capacity & length
Application
Hot & cold water circulation, cooling water circulation.
Trip irrigation, water supply & building services
Thermic fluid, jet dying, volatile fluids.
Condensate handling, firefighting system, environmental.
Engineering, marine, refrigeration & cooling towers installation etc.
Chemicals, petrochemicals, refineries, sugar, paper, laminates industries
Power station, rubber, organic & inorganic chemical, food, salt, textile industries,
Corrosive & abrasive process chemical like acids, alkalis, solvents, slurries, hydrocarbons, crystallizing liquids, nitric, ammonia, phosphate, chemical effluents etc…