Send Inquiry
Corrosion Resistant PP Pump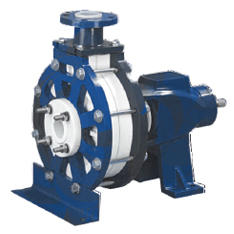 Corrosion Resistant PP Pump
CORROSION RESISTANT POLYPROPYLENE CENTRIFUGAL PUMPS
(POLYPROPYLENE CENTRIFUGAL PUMPS)
Mackwell is one of the prominent manufacturer, supplier and exporters of Polypropylene Centrifugal Pumps. We have advanced offices at our premises that empower us to meet the developing requests of our clients based over the globe. Our experts work in a nearby coordination of each other to meet the correct requests of our customer's and thereby, boosting customer fulfillment.

Arriving in a scope of impeller distance across choices for each direct size according to the execution prerequisites, these can likewise be given diverse stream rates which make them reasonable to be utilized as a part of industry segments like pharmaceutical and paper and mash ventures. Further, PP Centrifugal Pumps are likewise appropriate for distribution of chemicals in pickling and electroplating plants.
Operating Data
| | |
| --- | --- |
| Capacity: | up to 50 m3/hr |
| Head: | up to 45 mtr. |
| Discharge Size: | 25 mm to 50 mm |
| Temperature: | 80° c |
| Speed: | up to 3500 rpm |
| Pressure: | up to 4.5 kg/cm2 |
| M.O.C: | P.P., UHMWPE |
Application
Water treatment plant, effluent, treatment plant, electro plating, steel rolling mills.
Excellent for transfer and loading- unloading like HCL, sulphuric acid/alkali, caustic liquid.
Scrubbing of corrosive gases such as NH3, CO2, SO3, SO2, I2, F2, BR2, CI2, etc..
For handling liquid in various industries such as textiles, paper, cellulose, sugar, steel, food, etc….
Ideal for circulation of chemical in metal finishing industry.
Natural choice for pickling line & scrubber in steel plants.
High capacity transfer pump, filter, press for dyes & chemicals, descaling, oil & other fuels.
Features
Designed to suit extremely corrosive duties in the process & chemical industries.
Suitable for continuous services
Self- venting type casing
Dynamically & hydraulically balanced impeller with aerodynamic profile vanes.
Greases / oil lubricants bearings
Pumps are fitted with either mechanical seal or gland packing depending on the service condition.
Shaft &sleeves of different material depending on the compatibility of the liquid to be handled.